Directions: Using the digits 1- 9, at most one time each, to fill in the boxes to make each expression evaluate to a perfect square number.
Extension/Challenge: What is the largest/smallest square number you can make? How many different perfect square numbers could be made?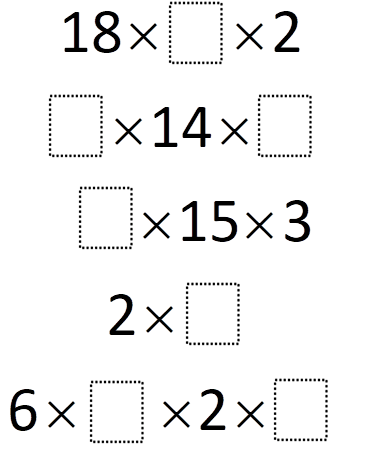 Hint
You may find it helpful to factor each number in the expression into their prime factors first.
Answer
Number of Unique Solutions: 12
#1:
18 x 1 x 2 = 36
2 x 14 x 7 = 196
5 x 15 x 3 = 225
2 x 8 = 16
6 x 3 x 2 x 9 = 324
#2:
18 x 1 x 2 = 36
7 x 14 x 2 = 196
5 x 15 x 3 = 225
2 x 8 = 16
6 x 3 x 2 x 4 = 144
#3:
18 x 1 x 2 = 36
7 x 14 x 8 = 784
5 x 15 x 3 = 225
2 x 2 = 4
6 x 3 x 2 x 9 = 324
#4:
18 x 1 x 2 = 36
8 x 14 x 7 = 784
5 x 15 x 3 = 225
2 x 2 = 4
6 x 4 x 2 x 3 = 144
#5:
18 x 4 x 2 = 144
7 x 14 x 2 = 196
5 x 15 x 3 = 225
2 x 8 = 16
6 x 3 x 2 x 1 = 36
#6:
18 x 4 x 2 = 144
7 x 14 x 2 = 196
5 x 15 x 3 = 225
2 x 8 = 16
6 x 9 x 2 x 3 = 324
#7:
18 x 4 x 2 = 144
7 x 14 x 8 = 784
5 x 15 x 3 = 225
2 x 2 = 4
6 x 3 x 2 x 1 = 36
#8:
18 x 4 x 2 = 144
8 x 14 x 7 = 784
5 x 15 x 3 = 225
2 x 2 = 4
6 x 9 x 2 x 3 = 324
#9:
18 x 9 x 2 = 324
7 x 14 x 2 = 196
5 x 15 x 3 = 225
2 x 8 = 16
6 x 3 x 2 x 1 = 36
#10:
18 x 9 x 2 = 324
7 x 14 x 2 = 196
5 x 15 x 3 = 225
2 x 8 = 16
6 x 4 x 2 x 3 = 144
#11:
18 x 9 x 2 = 324
7 x 14 x 8 = 784
5 x 15 x 3 = 225
2 x 2 = 4
6 x 3 x 2 x 1 = 36
#12:
18 x 9 x 2 = 324
7 x 14 x 8 = 784
5 x 15 x 3 = 225
2 x 2 = 4
6 x 3 x 2 x 4 = 144
Source: Erick Lee